Well, my stay in New Brunswick is winding down, but I still have a few more Going Home guest posts for you! Today I am happy to have the famous and fabulous Jen from
Rambling Renovators
here to share her thoughts on going home. Those of you who know Jen know she is an amazing designer and blogger, co-founder of
Blog Podium
, and one of the most kind and generous people out there. This girl is a giver, and a do-er!! Take it away Jen...
Hi Wicked & Weird readers. I'm happy to be filling in for Lisa today while she's on her trip back home. I've been following along on Lisa's east coast adventures
on Instagram
... canoeing, biking down gravel roads, hiking through lush forests, I've been getting a sense of what Lisa's lovely New Brunswick home means to her.
What does
going home
mean to me? That's a little harder to pin down. I grew up in Georgetown, Ontario for the first dozen years of my life. It was idyllic and a little like growing up in a Norman Rockwell painting... my parents were part of the PTA, we knew all the kids on the street, and Halloween meant trekking out for hours on end, just me and my sister and our pillow cases. Years after we moved away, I still visited old friends and we'd reminisce about playground crushes and riding our bikes down Hungry Hollow. Even now, if I find myself out that way, I'll make a detour and drive down the streets of Georgetown to see what buildings and houses I still recognize. It still feels comfortable and familiar, a lot like a warm hug, still a bit like home.
Our Georgetown home, circa 1980.
After University, I moved to the Philippines. Though I didn't speak the language and barely knew the relatives I came to live with, it felt like a place I'd known my whole life. Life there couldn't be more different than what I was accustomed to in Toronto - pollution, extreme poverty alongside extreme riches, devout Catholicism, overcrowded streets. But there was something in the people, in their kind hearts and generous nature, that made me feel welcome. In that hot and steamy Asian climate, this Canadian girl found home.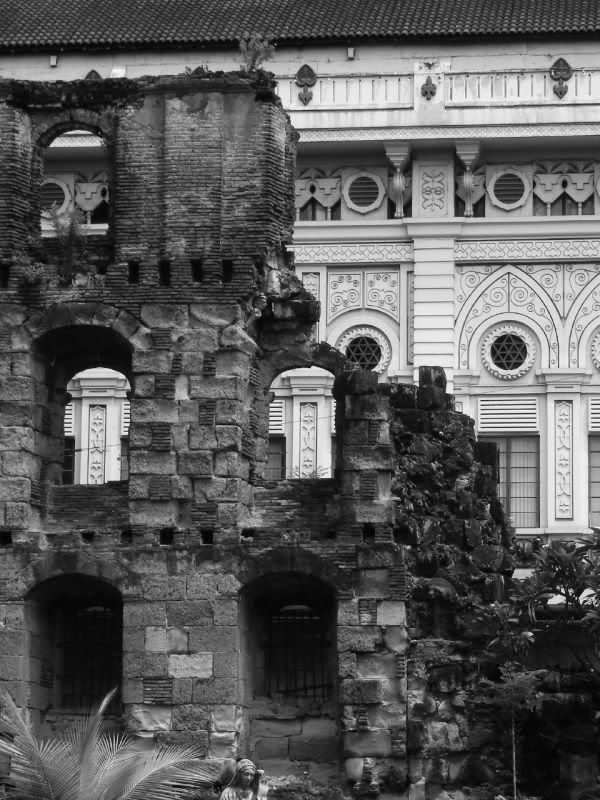 Old and new(er) architecture at Intramuros, Philippines
In the years before and since, Toronto has been home. It always will be. I can't imagine living and raising a family anywhere else. These days, home is...
... around the table at Sunday dinners at my parents house
... at the annual street party, where kids spend the day riding bikes and learning to use the fireman's hose while parents lounge on each other's lawns and marvel at how lucky we are to live on this street
... in our basement, building and painting and renovating, alongside my husband
... at the cottage, watching Chloe swim in the lake her dad learned to swim in when he was a boy
I've learned that home isn't a place, its a state of mind. Home is a place filled with memories and dreams yet to be. Its where your shoulders relax and your breathing slows and a smile is brought to your face. Home is the loveliest place in the world.
Wow Jen, you really have a way with words. I think you hit the nail on the head (and it sounds like you have awesome neighbours). Living in the Philippines must have been quite an adventure - that is such a great photo. And by your definition, I guess it makes sense that one can have more than one "home" - it is a feeling as much as an environment! Thank you Jen!
If you missed them, here are the other posts in this series: