I thought while I was here in New Brunswick I would do a few posts about some of my favourite New Brunswick artists. This province has such a rich arts and crafts community and I was fortunate have parents who always had a great appreciation and passion for the work of local artisans. I thought I would introduce a few of my favourites, beginning with the man who sparked my interest in photography -
Freeman Patterson
.
The photos I have included here are from my favourite of his many, many
books
-
Odysseys
. This book features photos that Patterson took in Namibia, in an abandoned mining town which is slowly being reclaimed by the desert. There are so many things I love about these photos: the light, the textures, the soft palette of colours, and the contrast between the hard edges of the structures vs the soft waves of the sand. I love the peeling layers of colour on the walls and the layers of colour from room into room into room.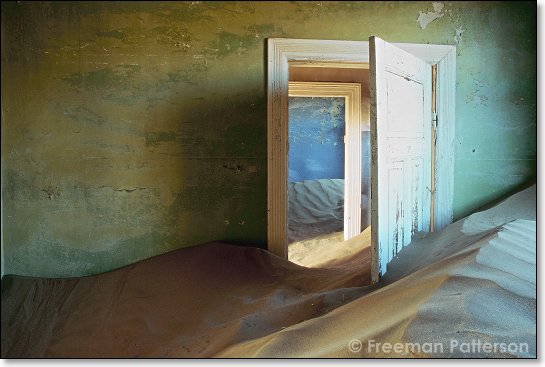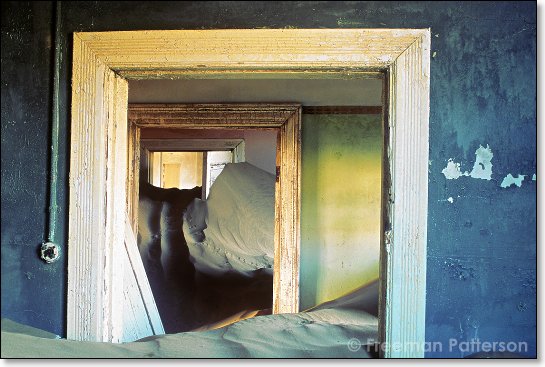 Freeman Patterson grew up not far from where he currently resides, in Shamper's Bluff, NB. He achieved a degree in Philosophy from Acadia University (my alma mater!) and a Master of Divinity degree from Columbia University in New York. His thesis for the latter was Still Photography as a Medium for Religious Expression. He was Dean of Religious Studies at Alberta College in Edmonton for a few years before devoting himself to his photography full-time, and returning to New Brunswick. Since then he has published twelve books and taught countless courses and workshops, especially in New Brunswick and South Africa. He has also been the recipient of numerous awards, including the Order of Canada and the prestigious Progress Medal from the Photography Society of America (past recipients include
Ansel Adams, Eliot Porter, Jacques Cousteau, and the Eastman Kodak company).
Here is an abridged version of his artist statement (you can find the full statement
here
):
[...]
For me there is a close connection between art and religion in the sense that both are concerned about questions of meaning -- if not about the meaning of existence generally, then certainly about the meaning of one's individual life and how a person relates to his or her total community/environment. This is not to say that every work of art is or should be a heavily profound statement, indeed many may be very light-hearted, but rather that consciously and unconsciously an artist engaged in serious work is always raising or dealing with the question: "What really matters?"

[...] In the broadest sense I photograph Nature, which includes human beings. Growing up in a rural community, I was surrounded by natural things. Unlike a child in a totally urban environment, my friends and peer group were not only other children, but also wild and domesticated animals, plants of every sort, brooks and waterfalls, rocks and sand. In winter I listened to the wind-chiming of ice-covered branches, wandered through spring's greening fields, splashed about for minnows in the river, and gathered bouquets of autumn leaves. [...]
I urge you to explore more of
Patterson's
work as this is but a tiny sample of his incredible talent. I would love to hear what do you think of these photos!