I know, I definitely have lost my blogging mojo lately, but I have good reasons... honest.
1) As the clock ticks down on to these two crazy cats both starting full time school in the fall, I am more grateful than ever to be able to be home with them right now. I realized that I was often getting sidetracked by the internet (ahem, and blogging) instead of being fully present with the kiddos - I would be playing with them but thinking of what I wanted to do online, or be online, thinking that I should really be hanging with the boys. Talk about a recipe for stress - it was a no-win situation. So I had a heart-to-heart with the mirror and realized that I needed to treat this stay-at-home gig like a real job (I even wrote myself a job description... super crazy but it worked!). I now spend my days completely focussed on what I am doing at home - in fact there have been many days when I didn't even turn on the computer until 8:00 pm when they were finally in bed (I do check emails from time to time on my phone, I am only human). The result is that I am less stressed, getting more out of life, the boys' behaviour is better and they are happier, and my blog is empty.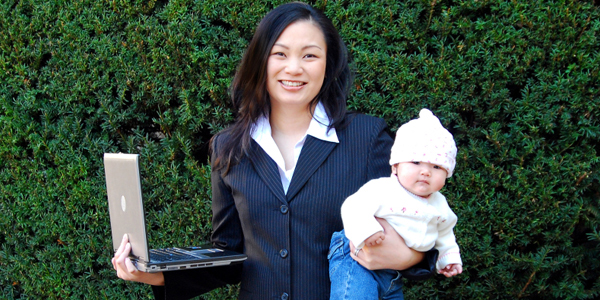 2) I am joining the ranks of the mommy entrepreneurs. Well, not right away, but I am building up to September. I am in the midst of a fabulous online business coaching course by
Marie Forleo
, and am putting all my ducks in a row to launch my e-design business in the fall. Yup, I decided to just PICK A DIRECTION already and once I did that, I knew that design was where my heart really wanted to go. The course is great but intense, and every night I have been working from the boys' bedtime (or even before as Super Hubby will put them to bed when I am swamped with work) until my bedtime. So my brain is expanding, and my blog is empty.
3) I am also working on starting
another
little business with a friend: we are going to start offering encaustic art portraits in our neighbourhood. Above is the one I did ages ago at that
first encaustic workshop
I attended a year ago, at the suggestion of this same friend. She and I have since done a few more workshops and art pieces of our kids, and have been asked for more by friends and family, so we thought... why not? The idea is that people could give/send/email us a photo, and we would apply the encaustic finish and painting. I like the idea that it is getting people's photos and family up on the wall, and in a unique artistic way. (What do you think - are we crazy?) As a result, I have been elbow deep in melted wax, and the blog is empty.
4) It seems I also love to do arts marketing and I have been working on a few contracts here and there with smaller arts groups in the GTA. I love it, but of course it always ends up taking much more time and effort than I estimate! I am squeezing that in with the "day job", coursework, and weekend workshops. Thankfully, my recent dental work is getting paid for, but the blog is empty.
There you have it folks - my sob story/ sorry excuses/ exciting news/ update on life. My blog reading has also plummeted (what is this I hear about google reader??? gasp???) so I would love to hear what you all have been up to in the last month or so! :)